Statistics
---
Total online: 1
Guests: 1
Users: 0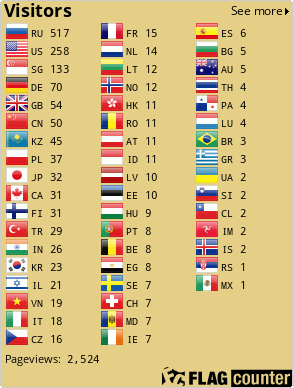 Home
»
2015
»
August
»
12
» New rules mean ships can be used by military
---
2:50 AM
New rules mean ships can be used by military
http://www.chinadaily.com.cn/china/2015-06/18/content_21036944.htm
By Zhao Lei (China Daily)
Updated: 2015-06-18 07:42
The country has approved a set of technical guidelines that require all civilian shipbuilders to ensure that their new vessels are suitable for military use in an emergency, the China Classification Society has revealed.
The Technical Standards for New Civilian Ships to Implement National Defense Requirements cover five categories of vessels - container, roll-on/roll-off, multipurpose, bulk carrier and break bulk. They establish specifications and design requirements that will mean vessels can serve national defense needs if they are mobilized, the society said in a statement.
The document is the result of a five-year joint effort by the society's Shanghai Specifications Institute and ship experts from the People's Liberation Army's Nanjing Military Command, and has been ratified as a national military standard.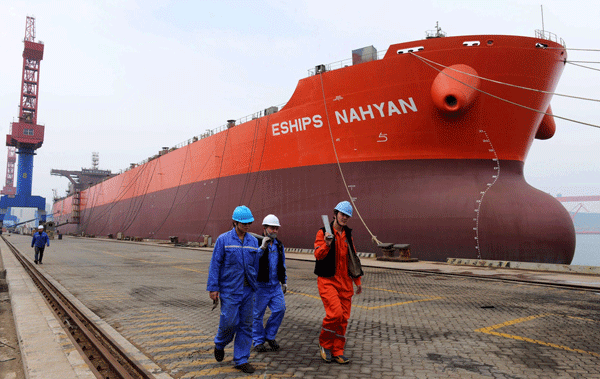 Chinese workers walks past a cargo ship being built at the shipyard of Qingdao Beihai Shipbuilding Heavy Industry Co., Ltd. of CSIC (China Shipbuilding Industry Corporation) in Qingdao, east China's Shandong province, 31 March 2014.[Photo/IC]
Its implementation will enable China to convert the considerable potential of its civilian fleet into military strength and will greatly enhance the PLA's strategic projection and maritime support capabilities, according to the statement.

In addition, the national legislature will soon begin work on a National Defense Transport Law that will entitle shipbuilders to receive funds to cover the extra cost of making ships suitable for military use and provide insurance for owners in case their vessels are damaged during military operations, PLA Daily reported.

China had about 172,000 civilian ships at the end of last year. More than 11,000 were dedicated to inshore transportation operations and around 2,600 performed ocean transportation, statistics from the Ministry of Transport show.

"Modern naval warfare often requires the mobilization and deployment of a large number of ships while the mass production of naval ships in peacetime is not economically sensible," said Cao Weidong, a researcher at the PLA Naval Military Studies Research Institute. "Therefore, it is a common practice that shipbuilders reserve some military application platforms on their civilian vessels so they can serve the navy in wartime."

In the past, only State-owned shipbuilders would consider military potential. The new standards will help translate the private shipbuilding sector's strength into military prowess.

Li Li, a military logistics researcher at the PLA National Defense University, said Western navies have benefited considerably from their close collaboration with private shipbuilders.

The United Kingdom requisitioned or refitted a large fleet of civilian ships to support its operations in the 1982 Falklands War, also known as the Malvinas War, and the rapid deployment of these vessels greatly assisted the Royal Navy, she added.

zhaolei@chinadaily.com.cn

(China Daily 06/18/2015 page3)
Category:
NEWS
|
Views:
660
|
|
Calendar
« August 2015 »
Su
Mo
Tu
We
Th
Fr
Sa
1
2
3
4
5
6
7
8
9
10
11
12
13
14
15
16
17
18
19
20
21
22
23
24
25
26
27
28
29
30
31
REGIONAL SITES:
«MAIN INFO, RUSSIA»
«AMERICA»
«POLAND»
«CZECH REPUBLIC»
«EUROPE»